published at 9:07am on 07/17/12
I recently had the misfortune of booking a Ryanair flight and discovered a secret little $20 fee hidden behind a checkbox.
First of all, if you've never had the pleasure of purchasing a ticket from Ryanair, especially out of London, I would highly recommend avoiding it at all costs. The problem with flying out of London is that it requires at least three different searches (for the three regional airports) which can not be combined. You then have to do the mental gymnastics involved in figuring out which airport provides the schedule you want, let alone the price that you're comfortable paying (after all, this is a "budget" airline, so you're certainly competing on price here). But beyond their abysmally bad web experience, Ryanair are known to charge fees on just about every part of the travel experience, from the £1.50 charge to have an SMS confirmation sent to your phone, to baggage fees for everything besides your one carry-on, to fees for checking in at the airport.
So against all better judgement, I had settled on a flight from Gatwick to Dublin. During the checkout process, however, I noticed that as I entered my credit card information, the ticket price on the web page automatically updated and was listed in both pounds and the converted dollars that I would actually be paying.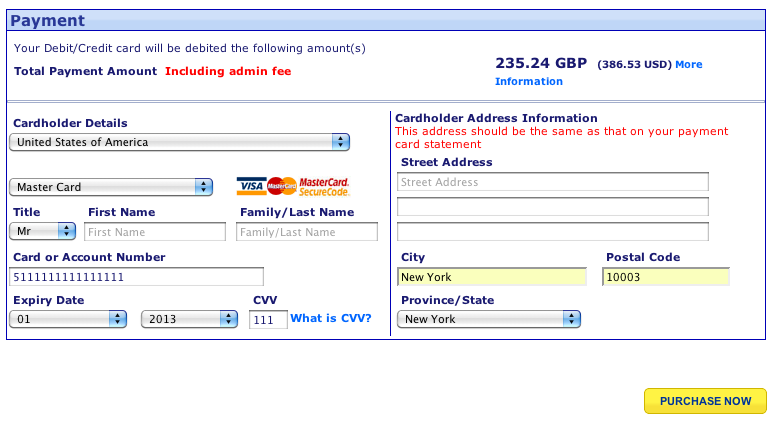 It turns out that Ryanair will quote you a ticket price in the currency of the departing country (hence the price quoted in Pounds in this case), but will actually bill you in your home currency (in my case, US Dollars). The interesting bit comes behind the "more information" link, which will show that they have taken the liberty of providing you with their own currency conversion rate which is, as you've probably guessed, much worse than the current rate.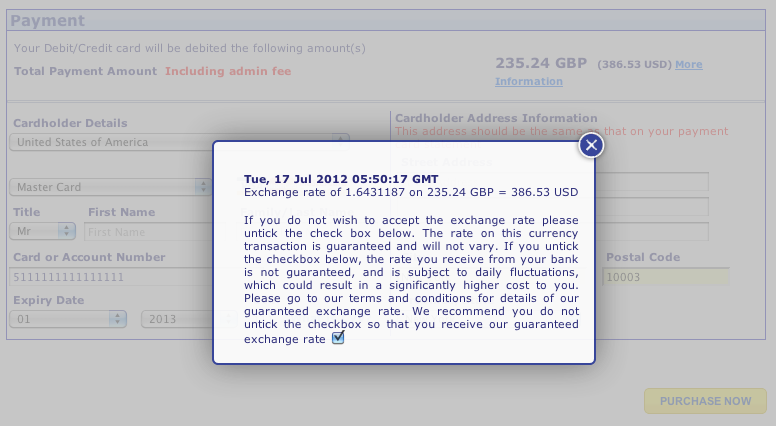 At the time, this £235 ticket was quoted by Ryanair as $386, and xe.com as $368. Simply unchecking this box will bill my card in Pounds and will let my credit card company do the actual currency conversion, which should be a lot more fair than the Ryanair rate (not taking into consideration the foreign transaction fees that a lot of cards charge, but that's another story).
You're probably going to get screwed by flying Ryanair anyway, but at least make sure that it's on your own terms.
Filed under: Observations